A ship is a dynamic factory system sailing at sea. It produces big data every single minute. Maritime data sources vary from machinery sensors to electronic chart display and information systems (ECDIS). The revolution is shipping with technology and shipping digitalization is becoming a reality. Shipping digilitazion is taking shape with initiatives from technical managers, classification societies, flag states, port and harbour authorities, and other maritime stakeholders on a global scale. Let's also not forget the maritime startups that disrupt our industry including the increasing number of maritime startup accelerators on major port hubs worldwide.
In the traditional form of ship management, technical managers managed everything in paper to comply with ISM and IMO regulations. When ISM came first in the 1990s to improve the maritime safety management system (SMS) onboard and ashore with the purpose to reduce maritime accidents, paper was extensively used for record keeping. Chart management, engine and deck logbooks, ballast operations, engine operations, maintenance records are just some of the examples.
The change has been remarkable since then. During my sea service as a Deck Cadet in the start of the new millenium, all chart updates were coming by mail via shipping agents. After some years, ECDIS started replacing charts and electronic navigation became the new norm.
Moving forward to 2020, maritime companies use more digital solutions. They are adopting the use of web and desktop ERPs, online safety management systems and preventive management systems that sync between vessel and shore office. But they are still cases of paper based systems.
To understand more about the basic concept of shipping digitalization, I captured the graph below from academia. It shows a glimpse of the relationship between technologies, solutions and digital management practices (business). It is a model that requires integration of data sources both from vessels and maritime companies to make the digital transformation for every maritime company a success.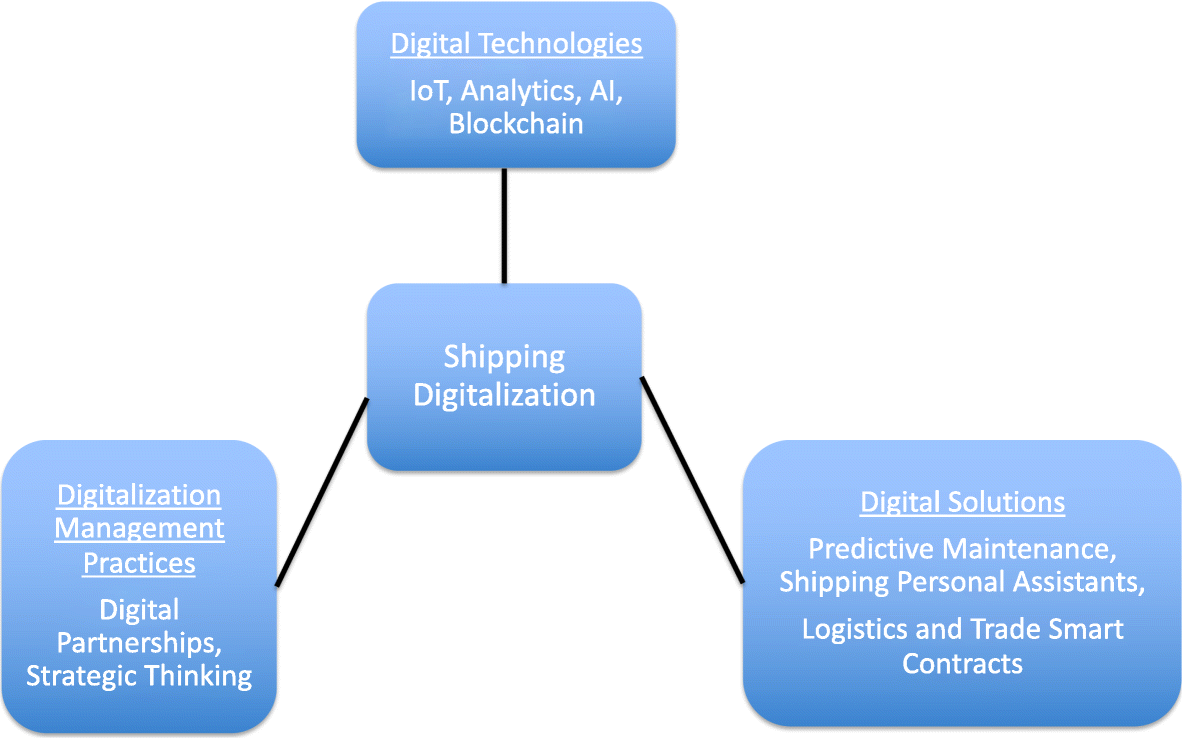 Along with the digitization areas, below are some examples of the solutions and technologies in the maritime industry.
Digitalization Areas
Digital Technologies-Solutions
Ship Operations-Autonomous Functions
IoT, analytics, AI, 5G
Technical and nautical operations
Various levels of Autonomy for Ship Operations: Navigation, Berthing, Collision Avoidance
Shipping Commercial and Business Management Operations
IoT, analytics, AI
Asset optimization, fleet planning, service planning
Trade and Logistics Functions
Digital Platforms
IoT, analytics, blockchain
Cargo monitoring, Paperless Trade, Supply Chains Synchronization
Internet of Ships Platforms &
Internet of Sea Services Platforms
Analytics, AI
Smart Cargo Booking
Open Data Hub for shipping companies, shipbuilders, equipment manufacturers, IT companies, weather information companies, and digital solution providers.
Source: Lambrou, 2019
Whatever the digital solution or technology, the integration of data sources and applications is happening and empowers the maritime ecosystem. But the integration is independently developed and the data are not organized to help with the development of custom digital solutions. It is a chaos of datasets and information!
Cloud storage such as IBM, Amazon, Azure and Google offer iPaaS which stands for integration platform as a service. Such platforms enable the efficient integration of data and software which empower the data transformation of businesses.